McAfee Fellows – Transforming Health & Healthcare
The PELI Advanced Course is aimed at physician and provider leaders who have the experience, commitment, and passion to lead initiatives that will transform and improve Maine's health and healthcare systems at local, regional, and statewide levels.
This course was created in response to the needs of physician leaders and non-physician healthcare executives across Maine. The intent of this course is to guide clinicians with the management and leadership skills needed to transform health and healthcare in their practices, hospitals and other settings. PELI brings national caliber training and faculty to Maine and tailors the course to the specific needs of Maine physicians and providers.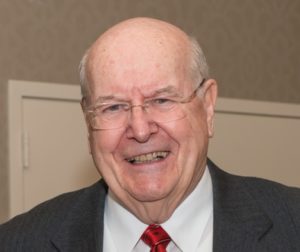 We designate our graduates 'McAfee Fellows' in honor of the distinguished physician leader Robert McAfee, a general and vascular surgeon, physician and advocate for the prevention of family violence and improved healthcare. He was the 149th President of the American Medical Association and Chairman of the Board of the Dirigo Health Plan. The PELI Advanced experience prepares physicians to tackle today's healthcare challenges while strategizing to resolve tomorrow's, following in Dr. McAfee's footsteps.
Starting in 2021, the Hanley Center realized due to the changing landscape of healthcare, advanced practice providers (APP) would also benefit from this course. If you are a senior level APP looking to advance your current leadership role, please consider taking this course.
The advanced course is competency-based, highly experiential, and systems focused using an adult learning theory model. Participants attend a series of six 2-day residential sessions over a 12-month period of time in order to provide participants with the opportunity to bring new learning to their work settings, share experiences, devote considerable time and thought to complex issues, and build and strengthen professional relationships and trust with colleagues.
The physicians and providers attending the advanced course will benefit from the following:
an 80-hour curriculum course delivered by faculty from the Heller School for Social Policy and Management of Brandeis University as well as local experts
80 Category 1 CME credit
certificate of completion
long-standing and supportive network of physicians and advanced practice providers across the state
a higher level of personal and professional development
---
This activity has been planned and implemented in accordance with the accreditation requirements and policies of the Accreditation Council for Continuing Medical Education (ACCME) through the joint providership of the Maine Medical Education Trust and Daniel Hanley Center for Health Leadership. The Maine Medical Education Trust is accredited by the Maine Medical Association Committee on Continuing Medical Education and Accreditation to provide continuing medical education for physicians.
---
American Disabilities Act (ADA)
If special arrangements are required for an individual with a disability to attend this course, please contact Janell Lewis
---
For more information, please email Judiann Smith.